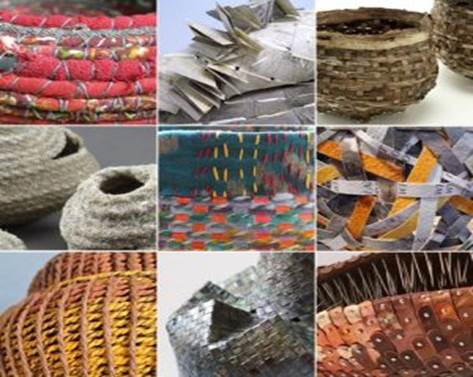 After a long vacation, I am ready to get back into my studio and have some fun. I love to go away and recharge my 'creative batteries' but I must say it is nice to come home and get back into the studio. I have a few of my 3D pieces in a show at Fiberworks at present. It is called 'Beyond the Basics' and here is the write up from the Fiberworks gallery webpage:
Beyond the Basics
Celebrating the 10th anniversary of FibreWorks Studio & Gallery in Pender Harbour, BC, Canada, 2017 provides the opportunity to showcase special events highlighting the excellence of the fibre artists who have exhibited, taught and attended workshops at FibreWorks.
One of these special events is "Beyond The Basics" – a juried exhibition of basketry, inspired by the teachings of renowned basketry artist, Jackie Abrams of Vermont. (www.jackieabrams.com). In addition to the accepted submissions, the exhibition will feature some of Jackie's fabulous work.
Artists from Canada, United States of America and Australia have submitted their art, showcasing the influence of Jackie's teachings.
Join us in congratulating Jackie at the opening reception of Beyond the Basics: Jackie Abrams & Friends – Saturday, June 17, 2 to 4 p.m. The exhibition continues through to Sunday, July 23.
Please check the workshops – Collect & Connect and Bias Plaited Baskets that are offered during Jackie's time at FibreWorks in 2017.
Jackie Abrams has been a basketmaker since 1975, when she first apprenticed to an 81-year-old traditional white ash basketmaker. Since 1990, she has been exploring plaiting techniques, the use of heavy cotton paper as a material, and the possibilities of contemporary basketry. She exhibits her work at shows, galleries and museums, has been included in numerous books, and teaches throughout the US, Australia, and Canada.