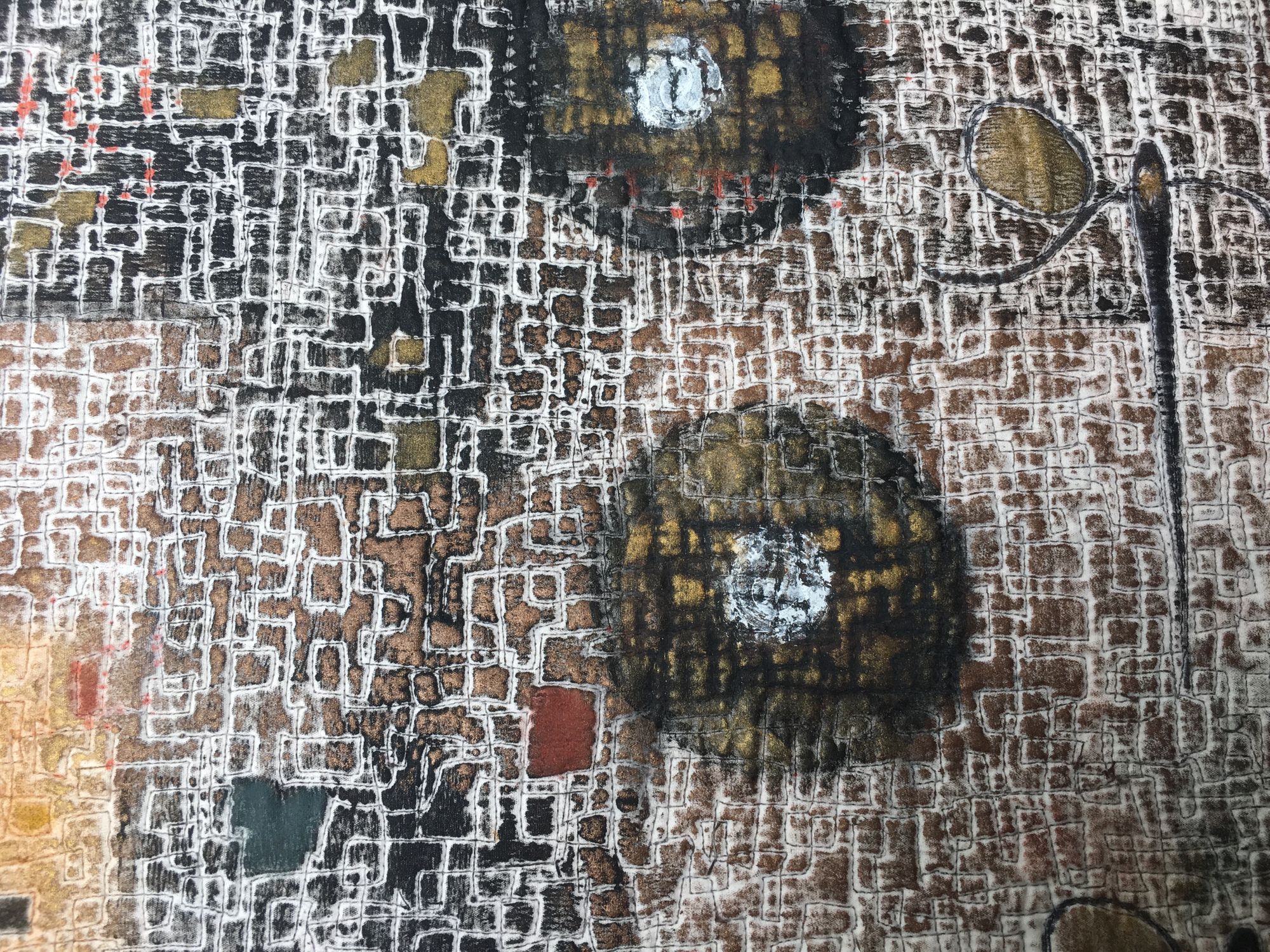 Here is my Artists Statement for the exhibition "Women's Work," which will be in September.
Artists Statement
Anni Hunt
I was honoured and enchanted to be asked to participate in this exhibition, by invitation from the Italian Cultural Centre in Vancouver.
I was, and still am, delighted to have been given the image of Empress Theodora. I visited Istanbul in 2013 and became acquainted with Theodora and learned many intriguing details about women's lives in the Byzantine era.
As a result of this personal experience and connection, I felt implored to translate the image of Empress Theodora almost verbatim; elaborating on the mosaic tiles depicting Theodora and her attendants.
In addition to a translation of the mosaic, I chose to embellish Theodora as a moderately inconspicuous illustration of the female figure; an all-inclusive representation of women and our contributions to society.
As I was stitching the recurring tile pattern and the female forms, I realized that my piece could be fully reversible, and by extension, represent more than just one "side" of the story. I wanted to illustrate the range of expression and adaptability of women, in both ancient and modern times.
My process involved an initial design draft on watercolour paper, whereby I was able to iterate further and get a feel for the mosaic interpretation, and the "quilt- like" background you see in my finished artwork. I was determined to make marks that represented tools that women of the Byzantine era included in their works, such as spindle whorls, looms, needles and sewing tools.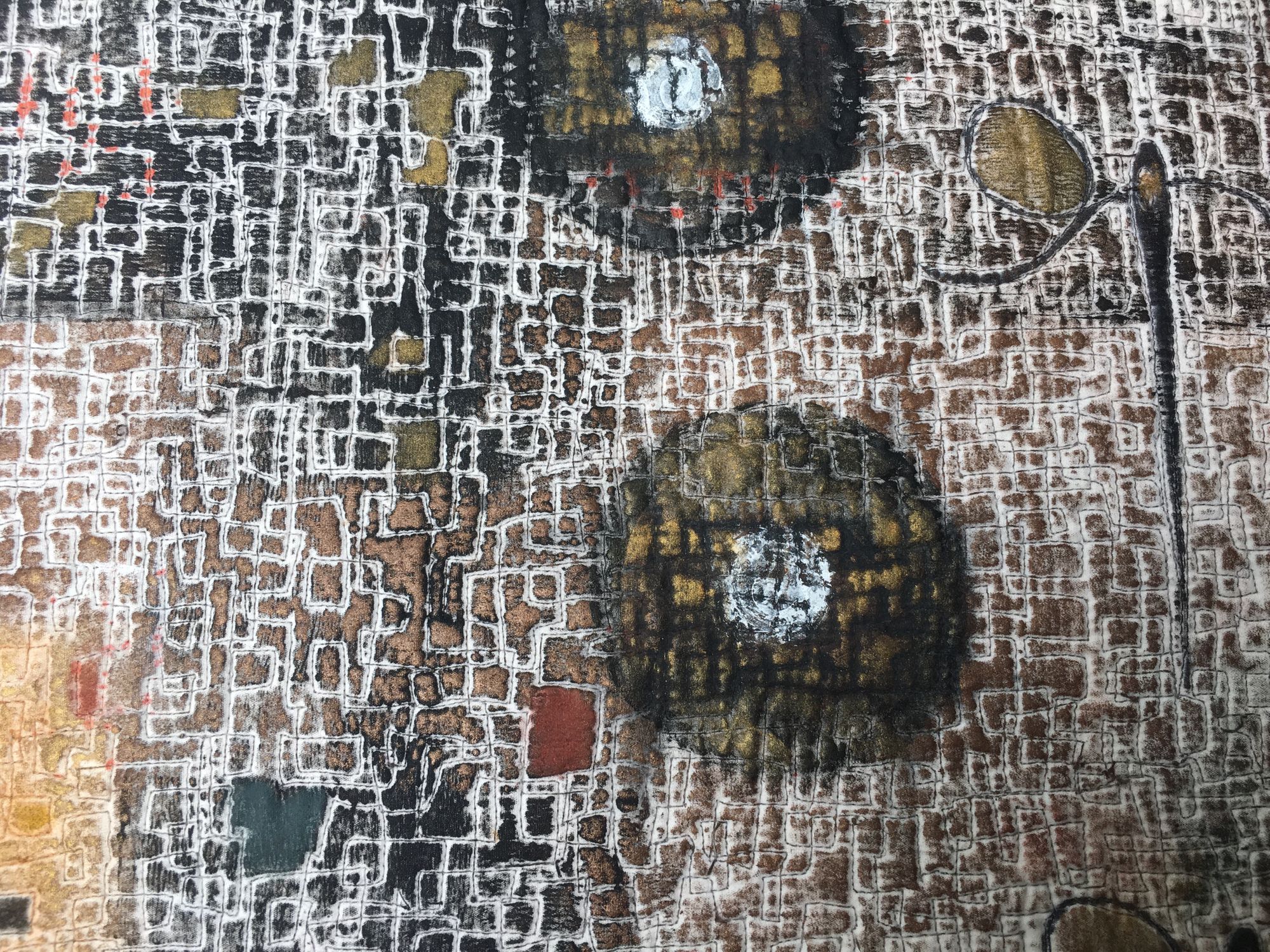 So I have had much fun over the past week, painting into the textured surface of the back of the quilt. A blank canvas to create something completely opposite to the other side.
I used Dynaflow dyes and textile paint, printing inks and shiva sticks, to add stitch to the female figures, and buttons and beads to the overall surface.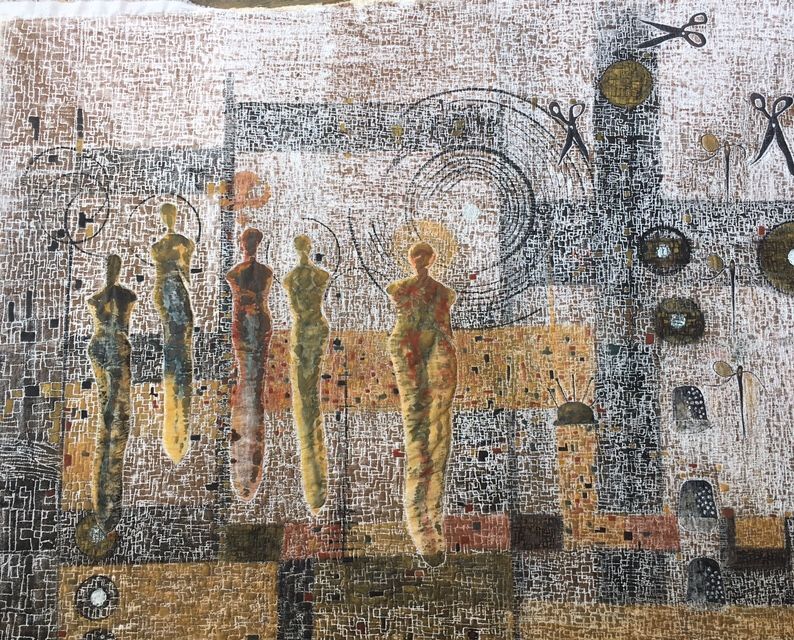 Will post the reverse side once I start on it later today.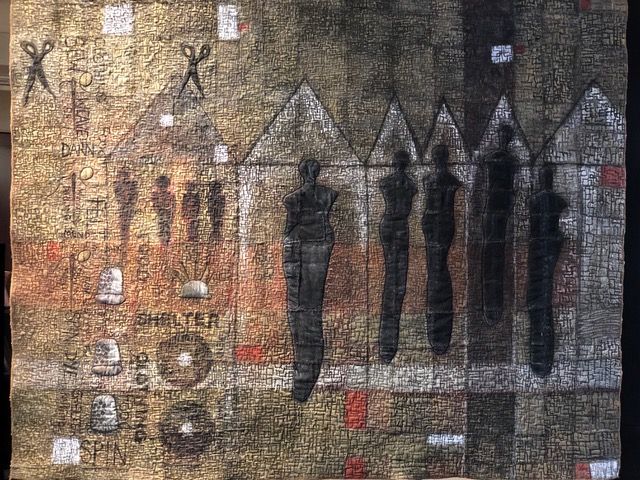 Above is the reverse side, of the women who work for the Empress.
As you can see, one side represents the rich lifestyle of Empress Theodora, and the other side will depict the more mundane life of the average woman, then and now.
-Anni